Watson Lake, Yukon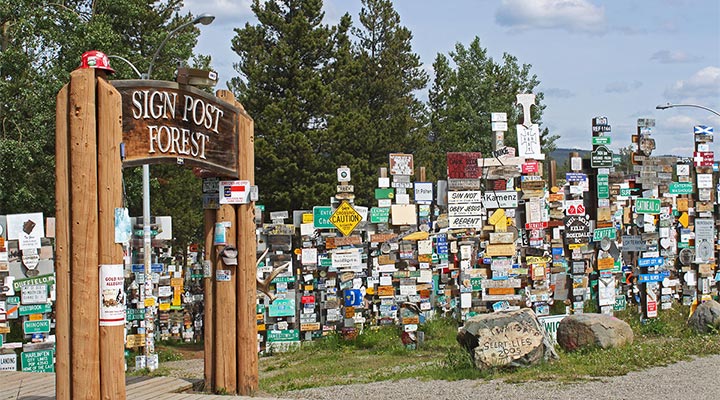 Home of the famous Signpost Forest, the incredible Northern Lights Space and Science Centre and gateway to the exciting history and breathtaking scenery of Yukon.
Situated in the rolling hills of southeast Yukon, Watson Lake offers many ways to enjoy the outdoors. Whether it be quiet trails, fishing, white water canoeing, horseback riding, or a chance to slide on the only man-made water slide north of 60°, Watson Lake is the place to do it.
In the winter months, the gentle slopes and mixed aspen and coniferous forests can be explored by cross country skiing or snowmobile riding. Downhill skiing is available on Mt. Maichen and local lakes provide opportunities for skating or ice fishing. A new recreation centre complex provides bowling, squash, and indoor ice skating. Best of all, the spectacular Aurora Borealis (Northern Lights) illuminate the black night sky with dancing displays of colour.
Learn more about Watson Lake by visiting the Watson Lake Community Library (in the new Town administration building) or stop by the Visitor Information Centre (north of the Signpost Forest). The friendly staff can help you plan a relaxing or exciting stay . . . take your pick! (During winter months, check in at the town administration building for brochures and travel information).
Businesses | Enhanced Listings
Businesses | Enhanced Listings
Businesses | Enhanced Listings
Businesses | Enhanced Listings
Businesses | Enhanced Listings
Businesses | Enhanced Listings
Businesses | Enhanced Listings
Businesses | Enhanced Listings
Businesses | Enhanced Listings
Businesses | Enhanced Listings
Businesses | Enhanced Listings
Businesses | Enhanced Listings
Businesses | Enhanced Listings
Businesses | Enhanced Listings
Businesses | Enhanced Listings
Businesses | Enhanced Listings
Businesses | Enhanced Listings
Businesses | Enhanced Listings
Businesses | Enhanced Listings
Businesses | Enhanced Listings
Businesses | Enhanced Listings
Businesses - Regular Listings